Estate Planning
Estate planning involves the process of an individual or family arranging the transfer of their assets in anticipation of death or serious disability.
Estate plans seek to maintain the maximum amount of wealth available for intended beneficiaries and flexibility for the current owner of the estate prior to death. Federal and state tax laws complicate the process for drafting estate plans.
An estate is defined as the total property (encompassing "real" and "personal") owned by a person prior to its distrbution via a trust or will. "Real" property is physical real estate and "personal" property includes every other tangible assset, including automobiles, planes, household items, and financial wealth. Estate planning distributes both real and personal property to a person's heirs or designated benificiary.
Wills and trusts are the most common ways for people to distribute their wealth. Trusts avoid probate, an extended and expensive legal process that guides the transfer of assets.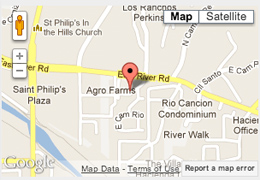 Location
Gadarian & Cacy, PLLC
2200 E River Rd, Suite 123
Tucson, AZ 85718

T: 520-529-2242
F: 520-577-6020